The Subpod
It's a well-known fact that composting is beneficial for the environment, the economy, and our local communities. For years, it has been recommended by scientists, professional gardeners, and of course, us here at EvenGreener; however, we realise some people may consider the prospect a bit daunting and laborious. That's why we offer a free, easy-to-follow guide to help you start your composting journey with all the tips and tricks you'll need to become a composting hero.
Though, we haven't stopped there. We also sell a diverse range of products to convert your kitchen, garden, and organic waste into healthy, nutritious compost to condition your soil and nurture your garden. One of our favourite products is the Subpod Compost system, which works alongside nature, using worms and microbes to transform a variety of your waste into rich compost, all without the odours, vermin, mess, and basically hard work! 
What is the Subpod? 
The Subpod is an innovative, beautifully designed system to efficiently convert your food scraps and carbon items (such as paper, leaves, and coconut peat) into nourishing compost to enhance your soil and help your garden and plants thrive. We've found it's the easiest, most rewarding composting system on the market! See below to understand why.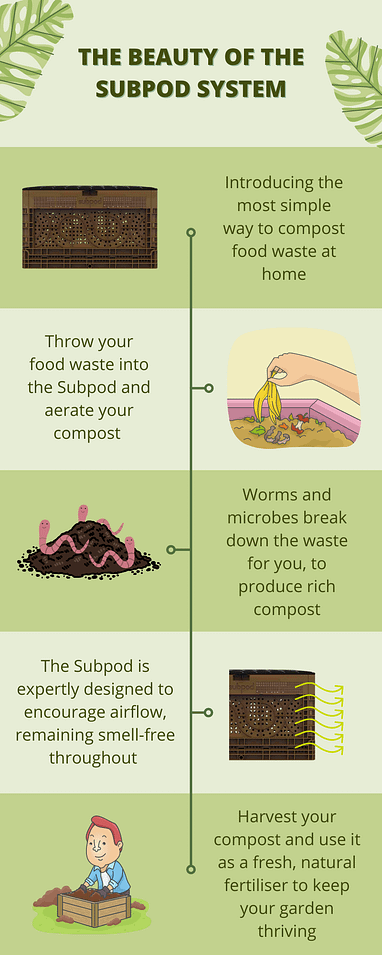 How does the Subpod work? 
The Subpod works below the ground, essentially acting as your own personal compost factory which homes and accommodates a hardworking army of compost worms and microbes. By mimicking the ideal conditions found in nature, the Subpod keeps the worms naturally cool which encourages them to feed and breed as rapidly as they like, constantly improving the composting performance of your Subpod system. Every time the worms leave the Subpod, their movement aerates the garden soil to increase the nutrient content, making composting the easiest it could possibly be!
The compost worms and microbes turn organic waste into worm casting, which is a healthy, organic form of fertiliser to enrich your soil and garden. Research in New Zealand proved worm casts has four times more phosphorous than surface soil, which can prove hugely beneficial for the strength and resilience of your plants against diseases. 
Why should you purchase the Subpod? 
With waste such an environmental hot topic right now, the way we use it is becoming paramount in our fight against climate change. When operating at full capacity, at around the three month stage, the Subpod system will convert up to 15kgs (or 30L) of food waste per week. So, if more people bought and used the Subpod, it would have a tremendous, positive impact for the environment and our planet.
As mentioned, composting is a brilliant, eco-friendly method to not only stop food waste from rotting away in landfills and emitting harmful greenhouse gases, but transforming the waste into a healthy, beneficial produce for your garden. The Subpod makes this process even easier by letting the compost worms and microbes do all the work for you. Just open the lid, throw in your organic waste and leave them to it! Gone are the days of big, bulky bins and pesky tumblers, and welcome the arrival of your own sleek, hassle-free underground composting factory!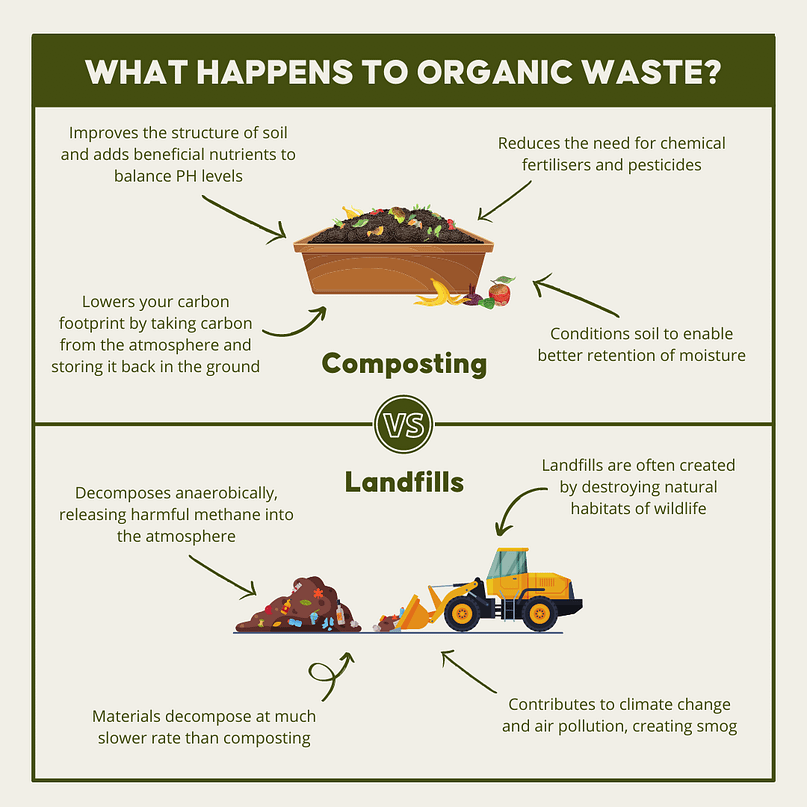 Subpod is an anaerobic system, meaning it promotes odourless microbes to catalyse the composting process. With smelly microbes therefore out the equation, and the innovative 360 degree ventilation below the Subpod's lid keeping fresh air forever cycling through the system, this ensures the compost will only ever smell as fresh and wholesome as a natural forest floor. 
Composting in Spring 
Research has proven, the best time to introduce worms into your garden is often in spring, so we encourage you to make the Subpod your prized possession ahead of the sunnier months. We offer a variety of different Subpod bundles and kits, so shop the range now to see which is right for you and your garden!
We also sell the slick and modern Maze Worm Farm – the stylish accompaniment to team up with nature again and benefit from the magic of worms and their ability to break down kitchen and food waste to further level-up your composting game. The contemporary design makes it perfect for all types of households, whether you have a small balcony, yard, or acres of space; this product is a brilliant option for creating nutrient rich compost and worm casting to give your garden that extra boost for spring. 

Our goal at EvenGreener is to support a community of eco-conscious, zero-waste warriors, equipping you with the tools to combat climate change, and benefit from a healthier garden to strengthen the human-nature connection. The Subpod is the perfect product to do just that. 
If the average family used the Subpod for one year, they would be saving the equivalent emissions as taking a car off the road for 6 months! 
If that's not enough, transforming kitchen and garden waste into healthy compost for your garden keeps your plants thriving, but also stops waste from being sent to landfills, which has a multitude of negative impacts for the environment, economy, and local community. Composting is such a key activity we can all carry out, so join the club and start now, or shop our range to see how we can assist you in your journey even further.