Spring Gardening Tips
Spring is an exciting and uplifting time for everyone, as nature starts to awaken from its winter hibernation and prepare for the greener, sunnier months of March, April, and May. With days becoming refreshingly longer too, these spring months are ideal for reconnecting with your local wildlife and spending some quality time outdoors to absorb its tranquility. Creating your own eco-retreat from the comfort of your own home will be well worth your time with our spring gardening tips to help spruce up your garden, especially with a heatwave on the way in April (supposedly), you can reap plenty of rewards when getting out and growing your green haven.   
Get Sowing 
One of our favourite gardening tips to get that spring back in your gardens' step is to sow some seeds and prepare your vegetable patches and flower beds and boarders for a busy season of growth. March is ideal for planting summer-flowering bulbs, such as lilies, ranunculi, and gladioli to give your garden that brighter blossom. If the sun truly does shine through March and April, and the soil is warm and moist enough, you can start to sow some early vegetables too; think carrots, spinach, broad beans, sprouts, cabbages, leeks, potatoes and onions. 
Spring Clean… Slightly 
Whilst you might feel better for a spring clean, tidying up your garden and removing any dead leaves and debris to pave the way for a stunner of a display, you've also got to consider the nearby wildlife, which is one of our main gardening tips for the year. Birds, bugs, hedgehogs and an array of friendly creatures will use seed heads, fallen twigs, leaves, rotting wood, and anything else they can shelter under as protection within your gardens' ecosystem. Simply by cleaning up 'too much', you might withdraw this local nature, and although a pristine garden display may look great, nature could always use a helping hand too; so that's something to keep in mind. 
Keep the Bees and Butterflies Thriving 
Butterflies are the perfect addition for any gardens wanting to replicate a winning Chelsea Garden Show display. Not only do their colours and grace bring us a warm smile, they also attracts native bees and birds back to your garden too; topping up your gardens' biodiversity to indicate you're providing a healthy environment from the comfort of your own home. 
To do so, another EvenGreener gardening tip is to plant summery, blooming flowers such as the Sedum 'Matrona', Buddleja 'Buzz', or the Verbena Bonariensis, which are all likely to attract some new life into your garden come the warmer months. Their nectar-rich goodness is perfect for bees and butterflies, who will collect and transport the pollen from plant to plant, helping fruits, vegetables, and flowers reproduce new seeds in the process to keep your oasis blooming.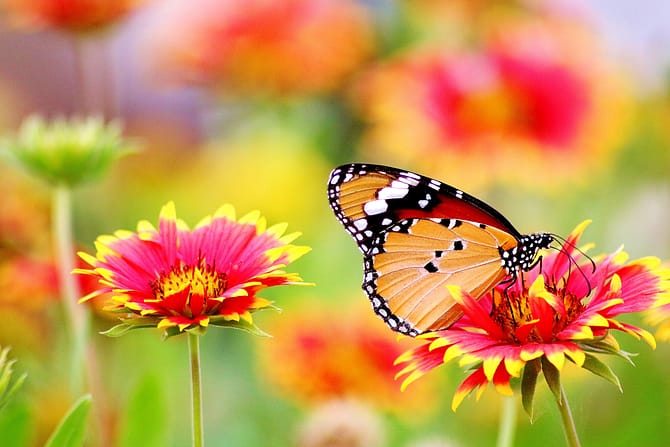 Get Mulching 
Never underestimate the benefits of adding mulch into your spring gardening routine, enhancing your soils' ability to save and conserve water, whilst adding greater depths of nutrients too. Mulch can either be organic, in the form of wood chips, straw, or old leaves; or can be inorganic in the form of rocks or black plastic. It's a valuable step in feeding your soil, retaining moisture and natural goodness, and keeping down weeds – helping your garden, plants, and crops all thrive! 
Install a Water Butt 
April showers and our water butts go hand in hand. Harvesting rain water can be a key step for your eco-gardening this spring, conserving earth's precious natural resources and slashing your water bills subsequently via our superb, sleek and stylish water butts. Natural rainwater is best for watering all plants in your garden too, as tap water is often too alkaline for some plants and crops. Fortunately, we have all your water butt needs covered with an array of colours, shapes, and sizes to make a great, sustainable addition to any garden. Our water butts are manufactured to supreme quality, from durable, recycled plastic to ensure you're leading the most sustainable lifestyle possible. 
With the warmer months approaching, the peak demand for water in spring and summer often results in water companies having to resort to digging up groundwater reserves and streams, which isn't only harmful to the environment and local eco-systems; but emerges as pricey for the end consumer too. Shop our water butts range here to become part of the global solution, harvesting rainwater and minimising water wastage, which currently in the UK, is a staggering 3 billion litres per day! 
Throwing all your excess kitchen, garden, and organic waste into a compost bin or pile is the perfect project to produce some nutrient-rich feed for your garden this spring. Not only that, it minimises, transforms, and redirects waste which would otherwise be sent to landfill where it slowly decays to pollute harmful greenhouse gases into the atmosphere. 
Composting is so simple too – we offer an array of composting products and accessories to assist you in your composting journey, and even provide a free, downloadable beginners' guide to get you started. Whether you want to hot compost all year round and power through transforming all your waste into compost in just 30-90 days with the HotBin, or team up with nature and let an army of worms and microbes create nutrient-rich compost for you via our Wormeries or the Subpod; you decide. 
Generally speaking, our composters like a split of 3 or 4 parts brown material, to 1 part green, rich in nitrogen and carbon respectively. A traditional compost pile will need regular turning with a garden fork each month or so to keep it aerated with frequent oxygen supplies, but our specialised compost bins often do it all for you to make the process even easier, so shop our range here! 
Thicken up your Lawn 
Lush up your lawn this spring gardening season with a few simple tips. Rake the ground gently to break up and loosen the soil, then spike it with a fork and sprinkle in a general garden fertiliser, before adding a handful of fresh grass seed (roughly 30-35g per sqm). Finish the process off by raking the seed in, keeping it well watered to ensure your new, thick, and luscious grass will emerge to give your garden that added edge. 
Divide your Perennials 
Once new growth appears in the warmer months, it's a good idea to divide your perennials. Keeping up with this regularly will maintain healthy and robust plants, enhancing their ability to multiply and really contribute towards a flourishing garden. To do so, simply lift the plants gently using a garden fork, working outwards from the crown's centre to minimise root disruption, and shake off excess soil so the roots are now visible. From here, simply transfer into bare spots to replant and make your garden EvenGreener. They'll need a good watering, and compost can even be added beforehand to add some extra nutrients into the depths of your soil to spur the growth. 
Give your Plants a Trim 
Your plants will enjoy a tidy up and some TLC to prepare them for spring, which could involve re-potting, moving to a more sheltered, protected area of your garden, or trimming the stems to encourage some new growth. 
Pruning is another rewarding job for your flowers and plants come March time too. Not only will it enhance the aesthetics of your garden, it's useful to stop growth spreading past ideal lengths to keep your garden healthy and in shape. If you have any roses or buddleia, prune these in the spring time after the frosts have passed to set them up for a successful year. Generally speaking, you'll want to prune after flowering is finished, but before budding starts. For plants blooming in late summer, on their stem growth from the current growing season, you should prune in early spring whilst the plant is dormant. 
So, there's a few of our spring gardening tips to get your garden up to speed. We're all for embracing the outdoors and submerging yourself in nature here at EvenGreener, so take advantage of the warmer breaths of air coming these next few months and make the most of a [hopefully] long and successful spring/summer of gardening, recycling, water saving, and all things eco!