Whether your garden space is green and grassy, filled with flowers or a pavement patch: we can all make our gardens 'EvenGreener'.
As part of our pledge to the planet, we're planting a tree for every order made during EvenGreener November (including on Black Friday). Let's have a look at how you can make your garden more eco-friendly.
Composters
A composter is essentially a living, breathing recycling centre in your back garden. Designed to be subtle and sustainable, all composters from our Bestsellers range effortlessly blend into any garden and can hold up to 330 litres at any given time. 
All you need to do is place any compostable waste (anything green and brown) into your composter and let the hot air in the bin turn it into nutritional compost for your garden. 
Blackwall Composters (330L & 220L)
Water Butts
Did you know owning a water butt can save you up to £1.38 an hour in water bills alone? It's not only good for the planet, but by collecting rainwater to use in your garden instead of getting out the garden hose, you'll save plenty of money too. 
Water butts come in a range of shapes and sizes but all you need to do is attach yours to your pipes and let the rain pour in. To use the water, simply place your watering can underneath the tap and turn it on and off when required. 
Cloudburst Double Water Butt Kit
Which combination is right for my garden?
The small garden 
Composter: Twin Pack Bokashi Bin  
Water Butt: Mini Rainsaver 100 Litre Water Butt Kit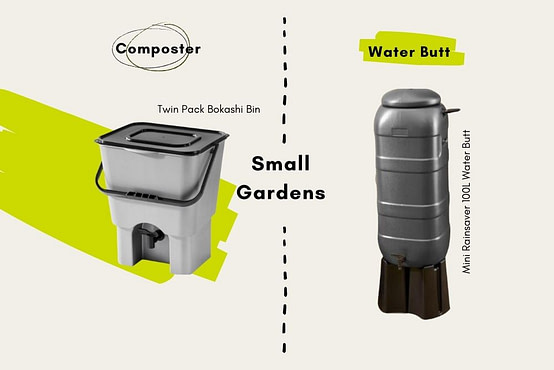 Bokashi bins are kept indoors so no need to make space in the garden. Simply fill your box with food waste and add a handful of bran every time you go. Once you've filled the bin, leave it for a few weeks to do its magic before burying the contents into your existing soil for added nutrients and zero waste. 
Mini Rainsavers are designed to take up minimal space. Their slimline design means each Mini Rainsaver can store up to 100 litres of water at a time, a perfect capacity for small gardens. They can be linked to other water butts using a connector kit and come with a five-year-guarantee so as your gardening needs to change, your Mini Rainsaver will adapt too.
The decorative garden
Composter: Subpod Grow Bundle
Water Butt: Harcostar 227 Litre Grey Water Butt Kit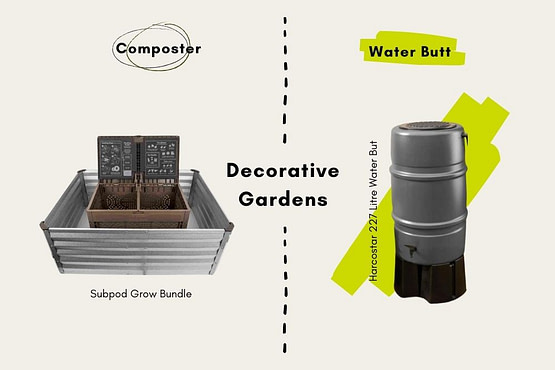 If your garden would fit in at an RHS show or you just want to keep your gardening products hidden, the Subpod is the composter for you. This innovative and practical composter uses an aerating strategy and enlists the work of worms to turn your waste into compost quickly and efficiently. Best of all, it doubles up as a garden seat.
The Harcostar range is full of water butts designed to be hidden plain in sight. Available in both grey and green, simply choose your preferred colour and your water butt will blend into the background. Made in the UK with a five-year-guarantee, the easy-to-follow instructions make this one of the most simple water butts to install. 
The large garden with lots of plants
Composter: Blackwall 330 Litre Compost Converter and Straight 5 Litre Kitchen Caddy
Water Butt: Cloudburst 200 Litre Water Butt Double Kit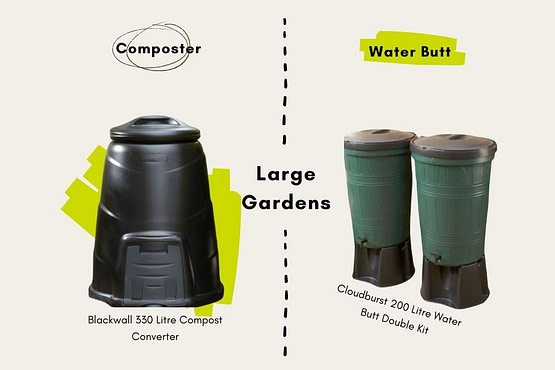 In a large garden with plenty of greenery, you'll need more compost to keep your plants healthy. Fill up your kitchen caddy with food waste, then one filled, place into your large Blackwall composter. With a 330 litre capacity, there's enough space in a Blackwall compost converter for all your garden and kitchen waste inside. 
The Cloudburst Water Butt Double Kit has a 400 litre capacity, making it the perfect rainsaver for larger garden spaces. The water collected can be used to keep your garden fresh, or for everyday activities like washing the car. The more water you save, the less tap water you will waste.