Nothing quite says it like a bunch of flowers. Whether you're buying a bunch for your mum on Mother's Day or just fancy treating yourself or someone else, flowers make gorgeous gifts and bring nature and joy to any room. Unfortunately, their beautiful exterior papers over a destructive path, as the global flower industry is far from being sustainable, ethical or environmentally conscious. Here are our top tips for sustainable flower buying. 
The Problem with Cut Flowers
The UK cut flower marker exceeds £2.5 billion per year and the majority of flowers come from the Netherlands where they are grown in enormous, heated greenhouses. This method of growing is inherently unsustainable- not only does it require vast amounts of energy, it also releases a huge amount of C02 into the atmosphere. What's more, in Europe there are no regulations on pesticide usage when it comes to growing flowers. Research shows that 84 different pesticides are used in the Netherlands to grow just one hectare of roses. Pesticides wreck havoc on the environment, and can have many negative effects on human health. 
Increasingly, flowers are being imported from Kenya and Ethiopia too, due to optimum year-round growing conditions and cheaper labour. This sends the carbon footprint of cut flowers through the roof, as they have to travel over 4000 miles in air conditioned trucks. This industry also depletes local water supplies- 45% of water used for exports in Kenya goes to the cut flower industry.
And it's not just the growing and transport of flowers that's problematic- when you consider the excess packaging, plastic props and floral foam, buying flowers has a clearly negative impact on our environment. The irony is that flowers make such wonderful gifts because they celebrate nature, and bring it into our homes. Flower lovers are more often than not nature lovers- so how can we make sure that our fondness for florals doesn't harm our planet? 
Buy from a sustainable source 
Buying local flowers is a great place to start, and despite the British weather we are home to an array of beautiful blooms. Buying UK grown flowers drastically cuts down their carbon footprint, as they don't have to be shipped halfway across the world. What's more, because British grown flowers can be picked and delivered fresh to your door, they don't require chemical treatment to extend their lifespan. Not sure where to start?   Flowers From the Farm is a non profit organisation that showcases a host of British based flower farmers, and has a plethora of resources for growing your own flowers too. 
Start with seeds! 
Buying for someone who can't get enough of florals? Why not buy them some seeds and a pretty painted flower pot as a grow-your-own gift that keeps on giving way beyond Mother's day? Marigolds, Sweet Peas, and Californian Poppies are super easy to grow, cheap to buy as seeds, and are ideal for planting between March and May time. They can be grown in pots, or in a flower bed and require minimal effort for maximum reward. 
Our Rainwater Terrace 3 Tier Water Butt makes the perfect pairing for flower seeds, as the clever design featuring built in planters allows you to grow flowers and save water in one sleek design. They make a beautiful garden or patio feature and are a perfect way to grow lots of flowers without a lot of ground space. 
Why not buy a plant? 
If you want to give a head start to the process, why not gift your mum an already blooming plant instead? Unlike cut flowers, these plants don't have an expiry date and will continue to bring joy, and peace long after Mother's Day has passed. Arena Flowers sell a range of gorgeous plants at fairly reasonable prices, and offer next day delivery across the UK. Although their plants are not grown in the UK, they are industry leaders in sustainability and ethics having been Fairtrade certified and accredited by the Ethical Company Index. 
Get Creative 
Have you received a bunch of flowers already? Want to make the most of them, but not sure how? To make your flowers reach their full potential lifespan, change their water daily to keep them hydrated and fresh. Contrary to what you might think, flowers should not be placed in direct sunlight, and air vents as this can dry them out. Florists also recommend keeping your flowers in the fridge overnight to help them last longer, and always make sure to cut off any dead flowers to keep the bunch healthy. 
Once your flowers have begun to wilt, there's a number of things you can do with them. If the petals still have colour and are healthy looking, why not turn them into a piece of artwork by flower pressing? This technique is very simple, easy to do at home and is a gorgeous addition to any scrapbook, card, or photo frame. 
Simply cut off the flower heads and any other leaves from the bouquet you want to keep and lay onto a sheet of paper, or kitchen roll. Place another piece on top and then sandwich in between the pages of a thick book. Balance on top another few thick, heavy books and wait for a week or two before checking. Make sure to keep the book press pile in a warm, dry place as this will help dry the flowers out quicker. 
Once dried and pressed, the flowers are delicate and have to be removed from the paper carefully. They can be used to make greetings cards and framed pictures or can be added to diary or scrapbook pages.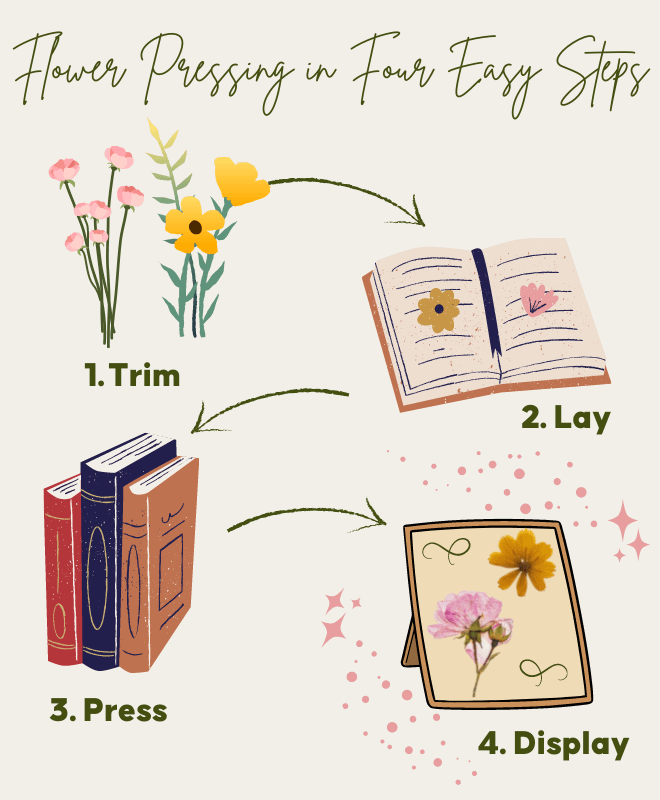 Go for the gift that keeps on giving 
Dried flowers are a great alternative to the classic fresh bunch and because they are already preserved, they're a gift that will last. You can buy dried flowers easily across the UK, and they often cost a lot less than fresh flowers. They can be repurposed and reused time and time again, long outliving their fresh flower counterparts whilst being just as beautiful. There are a number of retailers that stock UK grown dried flowers- check out Shropshire Petals, and Lavender World for gorgeous, dried flower bunches costing less than £10! For bigger bouquets check out Moonko, a Sheffield based independent brand selling an array of dried flowers. 
Sources: 
A Bouquet of Pesticides – The Dark Side of Flowers – NaturPhilosophie
The Netherlands: Environmental Issues, Policies & Clean Technology (azocleantech.com)
About — Sustainable Floristry Network
Environmental Impact of Pesticides – an overview | ScienceDirect Topics
Mother's Day: How sustainable are the flowers you buy? – BBC News